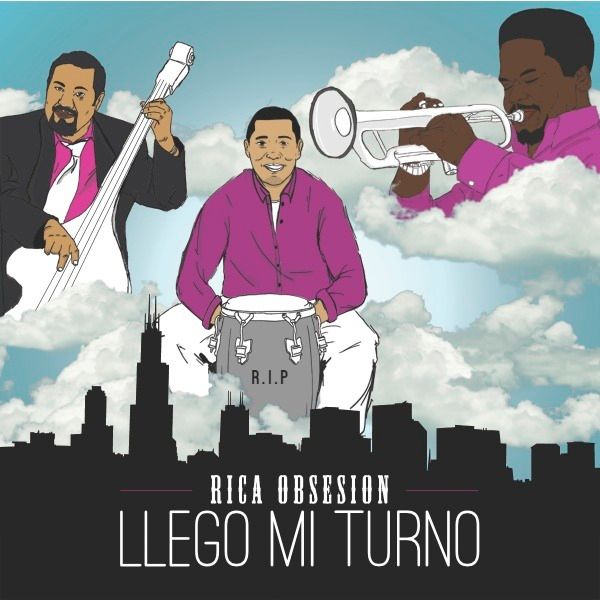 LLEGO MI TURNO
Two brothers joined in blood and music founded Rica Obsesion. Dennis and Byron Calito from Guatemala; raised in Chicago, have the talent and ability to achieve in the music industry. They started playing music in church at a very young age, and were inspired by their older brother Victor. Both of them have had the privilege to perform and record with various local bands in Chicago. They have also performed with well-known artist such as, Gloria Estefan, Willy Torres, DLG, Eddie Santiago, Kevin Ceballo, Tony Vega, Van Lester, Yomo Toro, Alex D'Castro, Wichie Camacho, Frankie Negron and many more.

Founded in 2005 by Dennis and Byron Calito. Rica Obsesion boasts an 11 piece orchestra with music full of enregy, with a real heavy brass section, 3 front male line and a very powerful percussion section. Rica Obsesion has been known for having their strong and unique musical sound which makes them a very powerful salsa band here in Chicago. Their first Cd entitled " LLEGO MI TURNO " has been playing over seas, South Amercia, Canada, Mexico. They also reached the number spot on the top 60 for the NEW GEN SALSA charts. 

Rica Obsesions ultimate goal is to show their love for music in their performance, to see and feel the excitement of the audience on the dance floor. With a combination of great music and the best musicians in Chicago, Rica Obsesion is confident that their goals will be achieved and that their clients will be very satisfied. Rica Obsesion will be able to put Chicago back on the map for Salsa once again.  




Contact:



Dennis Calito 847-912-6810  Email: ricaobsesion@yahoo.com

JC  (Juan Carlos ) 818-736-7748   Email: latinfire2007@hotmail.com






Rica Obsesion, is a Chi-Town Orchestra who recently released their new CD "Llego Mi Turno" which is loaded with great dance tracks para que se curen mi gente. The latest single which I chose to write a review for is a cover of a classic "Anacaona" which was originally done by one of the Fania Legends Cheo Feliciano.
Rica Obsesion's cover of this classic, has "HIT" written all over it. Wow!!! This is one awesome track which is pure fire and will light up all dance floors around the world. Dennis and his crew have taken this beloved classic to the 21st Century.
I'm not going to waste my time talking. Just go out and buy this awesome CD "Rica Obsesion – Llego Mi Turno" and add it to your salsa music collection. This is NewGenSalsa at it's best.
DJs if you don't have this yet. I don't know what you're waiting for.

Dj Walter B. Nice- New Gen Salsa 


There are a lot of strong up-tempo dance numbers in this recording, but our personal favorite track is actually Track 3,
Baila Mi Cha Cha, 
which has some excellent  call and response work in the metales. One of the distinguishing marks of
Rica Obsesion
locally is a deep coro, and that carries over into the recording, with strong vocals throughout.  We anticipate that some of the songs -
Dejala Con Sus Mentiras
,
Dinamita
or
Tu No Sabes Querer
, for example, will probably get some radio rotation outside of the Chicago and New York markets.
   
Llego Mi Turno is a worthy addition to the libraries of Salsa lovers and is also further evidence that Chicago's Latin music scene has been underappreciated nationally.   Hopefully this recording will help change that state of affairs.  

Bill Tilford -  www.timba.com 
RICA OBSESION CONSIST OF THE FOLLOWING:
 

Dennis Calito- Timbales / Music Director 

Byron Calito- Congas / Coro

Harley Figueroa- Saxophone, Flute / Coro

Johnny Martinez- Lead Vocals / Coro

Alex Torres- Lead Vocals / Coro

Adrian Ruiz- Piano

Nathan Rodriguez- Bass 

Jaime Rivera- Trumpet 

John Mose - Trombone